Prescription
Checker
VIDAL Consult allows you to check the safety of a prescription by detecting any intrinsic problems between drugs (Drug-Drug alerts) as well as risks related to the patient's pathophysiological profile (Drug-Patient alerts).
This function is based on the powerful Decision Support Modules provided by the VIDAL Core technology, alerting the user about drug interactions, redundant ingredients, contraindications, precautions for use and allergies related to the prescription context.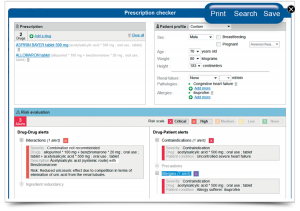 Add a drug to your virtual prescription.
Check at a glance for the level of risk of a prescription for a given patient.
Access a control panel detailing the issues that have been detected.
Save or print the prescription context and the alert results.
View the virtual prescription and add drugs.
Identify the nature of the risk and the level of severity of the interaction.
Fill in the patient information according to the available pathophysiological criteria.
View alerts related to the patient's profile.